Claude Monet is probably the most famous of the impression painters, so we might as well learn a little bit about him. In this post we will look at some interesting facts concerning Claude Monet and his work. I am sure it will be interesting for you and as usual if you have any questions or feedback please feel free to contact me, using the contact page on this site or any other method you prefer.
Monet was born Oscar Claude Monet in 1840, Paris. Throughout his life he went mostly by Claude, Oscar was used only by his parents. He is the best known of all impressionist painters and in fact it was his painting IMPRESSION, SOLEIL LEVANT that gave name to the impressionist movement.
From an early age it was clear that Monet was a talented artist. He began drawing as a young boy, sketching his teachers, friends and neighbours. He went to an arts school. TO make some pocket money he sold his charcoal caricatures of local figures. He also learned about oil painting and en plein air (outdoors) painting, which later became a hallmark of his style. Monet's mother encouraged his artistic talent, but his father, who owned a grocery shop, wanted him to follow in the family business. After his mother died in 1857, Monet left home to live with his aunt and, against his father's wishes, study art.
In 1856, a teenage Monet met Boudin on the beaches of Normandy. Boudin instructed his protégé in the techniques of painting outdoors and instilled in him a deep appreciation for the play of light on natural forms. The dynamic plein air style became a hallmark of the Impressionist movement; Monet later acknowledged: "If I have become a painter, it is entirely due to Eugène Boudin."
In 1861, Monet was drafted into the army. Forced to join the First Regiment of African Light Cavalry, he left Paris for Algeria, then a French colony. Monet's father offered to pay for him to leave the army if he would promise to give up painting, but Monet refused. After serving one year of his seven-year military commitment, Monet got sick with typhoid fever. His aunt paid to get him released from the army, and she enrolled him in art school in Paris.
Art school was a very conservative place, which didn't really allow for freedom of expression or in Monet's case freedom of impression. But luckily for us and for the future of art this atmosphere gave birth to one of the most famous art movements ever. In 1874, Monet and others whose works were often rejected at the conservative Salon de Paris (including Renoir, Edouard Manet, Edgar Degas, Paul Cézanne and Camille Pissarro) formed the Anonymous Society of Painters, Sculptors, and Engravers and organised an independent exhibition. It would later became known as The First Impressionist Exhibition.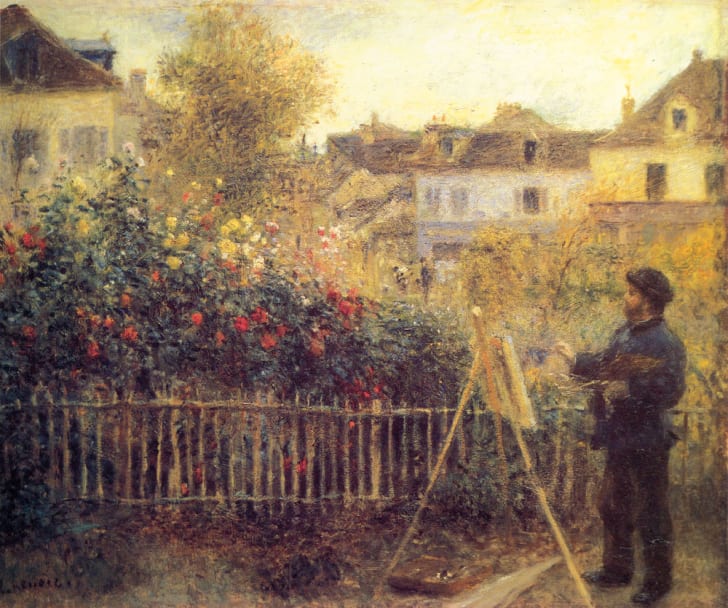 Monet certainly liked to move around a lot! He moved to England at the start of the Franco-Prussian War in 1870.
He was inspired by the work of John Constable, who was also a landscape painter. In May 1871 he moved to Zaandam in the Netherlands, before moving back to his home country in France in November 1871.
Monet married Camille Doncieux in 1870, though they had their first son Jean in 1868. Shortly after the birth of his first son, Monet and his family were living in poverty. His father did not approve of his relationship and career and had cut him off financially. The stress of trying to support his family combined with his frustration by the French art establishment, Monet attempted suicide by jumping off of a bridge into the Seine River. Thankfully he survived and went on to engage a group of like-minded artists with whom he would found the Impressionist movement. Unfortunately Monet would continue to struggle with depression throughout his life.
Monet was heavily inspired by Japanese art and collected a large amount of Ukiyo-e wood block prints.
His favourite model was his first wife Camille Monet (née Doncieux), who appears in over 30 of his paintings (including in Japanese dress above). But she sadly died when she was only 32 years old.
Monet married Alice Hoschedé in 1892 after the death of Hoschedé's husband. Alice was reportedly so jealous of Camille that she demanded that Monet destroy all photos, letters, and mementos of her. Only one photograph is known to have survived, an 1871 portrait that was kept in a private collection.
Monet is probably most well-known for his series of paintings of water lilies, but he also painted many other landscapes and seascapes.
Monet was probably his own harshest critic and in fact he destroyed over 500 of his paintings because he was unhappy with them!
In 1890, Monet bought a house in the village of Giverny and here created the gardens from which he would paint for the remainder of his life. He was a keen landscaper, Monet wrote daily instructions to the six gardeners that were hired to realise his vision. In 1893, to the displeasure of his neighbours, Monet created a pond on his property by diverting a local river. He filled it with water lily cultivars from South America and Egypt. You can see an example of this garden and the water lilies in the two pictures above and photograph of his beloved garden below.
Monet died on 5th December 1926 he was 86 years old.
Paintings by Claude Monet now sell for tens of millions of pounds. He produced more than 1000 paintings in his lifetime. He is remembered not only for being a founding member of impressionism but as one of the greatest artist that ever lived.