CHRISTMAS FACTS & CHRISTMAS AROUND THE WORLD
It will be Christmas very soon, so like every year we are going to have some lessons based around this theme. I love Christmas very much and probably it is my favourite holiday. I am sure it is the same for many of you too. Now every year we talk about Christmas, you tell me about Christmas in the Czech Republic and I tell you about Christmas in the United Kingdom. You have Ježíšek, we have Father Christmas or Santa Claus, you celebrate Christmas and open your presents on the 24th December and we do the same but on the 25th December. You eat carp and potato salad, we eat Turkey and roast potatoes. Any way you get the point I think.
This year I would like to do things a bit differently and look at the wider, more international view of Christmas, after all it is an international holiday, that is celebrated all over the world and by many different cultures. It would be very interesting to look at some fascinating facts about Christmas as well as the different ways it is celebrated around this world of ours. This year has been very challenging for all of us but we must remain positive and especially at this time of year we must try to be thankful for what we have got and those with whom we share our lives.
INTERESTING FACTS ABOUT CHRISTMAS
Of course there are many hundreds of interesting facts about Christmas but we are only going to look at a few of what i think are the most interesting ones that I have found from around the internet, where possible I will leave some nice links for you, if you wish to explore further and find out more facts that I haven't included. So let's get started shall we?
Did you know that not all Christians celebrate Christmas on the same day? In countries with large populations of Orthodox Christians*, such as Russia, the Ukraine and Romania, Christmas Day falls on 7 January. Some Greek Orthodox Christians celebrate Christmas on 7 January, too.
One of the most popular songs sung at Christmas is "Jingle Bells" but did you know it was actually written for Thanksgiving? Originally named 'The One Horse Open Sleigh', James Lord Pierpont composed the song in 1850 for his Thanksgiving Sunday school class. Now it is entirely associated with Christmas and there are many different versions of this song and in many different languages. Have a listen to this version below by the old crooner Frank Sinatra.
Christmas trees also became popular in Victorian Britain. Though these were first seen in 16th Century Germany where, at Christmas time, people decorated fir trees with fruit and nuts – and later sweets, paper shapes and candles. Surprisingly, historians think the origins of this tradition may date back to the Romans and Ancient Egyptians, who used evergreen plants and garlands as symbols of everlasting life.
Every year, Norway sends a beautiful home-grown Christmas tree to London, where it is decorated with lights in Trafalgar Square. Standing a towering 20m tall, the terrific tree is a gift to say thank you for the help the UK gave Norway during World War II.
Before 1931 for many people Father Christmas (Santa Claus) looked like this:
After a 1931 advertisement for Coca-Cola Father Christmas (Santa Claus) for many looked like this:
Christmas Physics: How does Father Christmas/ Santa Claus deliver presents to all the children in the world?
To reach all the children he would have to stretch time like a rubber band. The United Nations Children's Fund (UNICEF) calculate there are 2,106 million children under age 18 in the world. Now time for some maths:
If we assume that each household has in average 2.5 children, Santa would have to make 842 million stops on Christmas Eve, travelling 356 million kilometres. Given the different time zones, Santa has 36 hours to deliver gifts, therefore his average speed would be approximately 1046 kilometres per second. It is less than the speed of light (therefore, it's, possible in theory but still quite a big challenge for a chubby old man).
Santa Claus, Father Christmas, St Nicholas and even Svatý Mikuláš are all based on the same person; a 3rd century early Christian bishop that came from what is now Turkey. Many European countries celebrate St. Nicholas Day on 6th December but in the Anglo (English speaking world) world he becomes Father Christmas/Santa Claus and he delivers presents to children during the night of the 24th December. The North American Aerospace Defense Command (NORAD) has a special website dedicated to tracking Santa Claus so you can watch is progress around the world as he delivers gifts.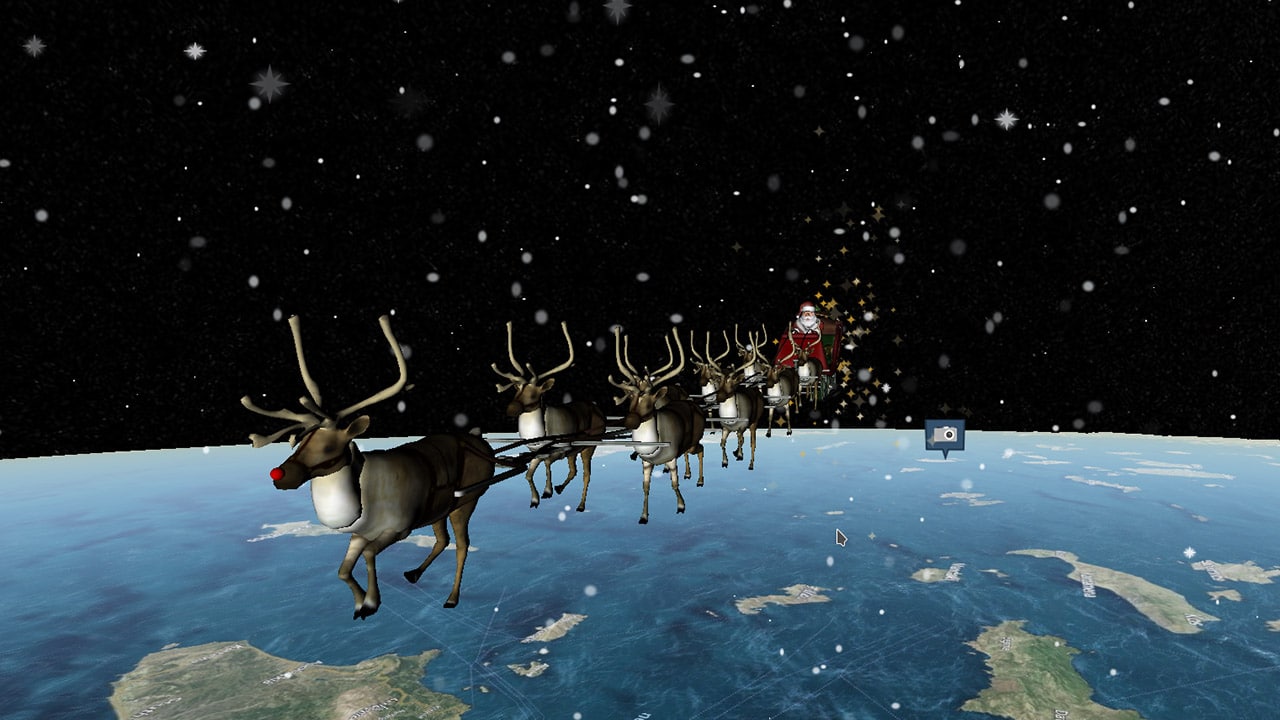 CHRISTMAS TRADITIONS AND CELEBRATIONS AROUND THE WORLD
While we are used to receiving gifts from Father Christmas/ Santa Claus or Ježíšek other countries have different characters, some nice and some maybe not so nice (well maybe only if you are naughty).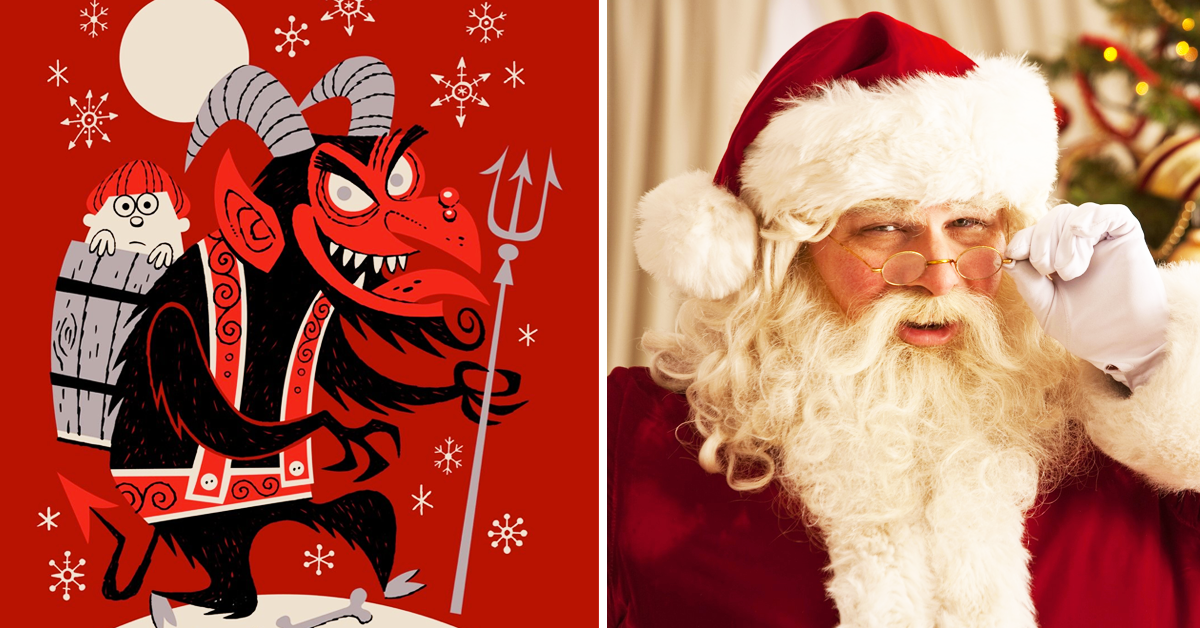 Let's have a look at some of the international versions of Father Christmas.
If you would like to see a more detailed list then please click here.
The city of Riga, Latvia holds the claim as home to history's first decorated Christmas tree, back in 1510.
In the Marshall Islands, people prepare for Christmas months in advance, stockpiling gifts and dividing into jeptas, or teams, that hold song-and-dance competitions on Christmas Day. They also build a piñata-like wojke containing little presents (matches, money, soap) for God.
In Peru, December 24th, which is known as La Noche Buena ("the Good Night"), is the main day for celebrations. After mass, families go home to feast, open gifts, and toast each other at midnight.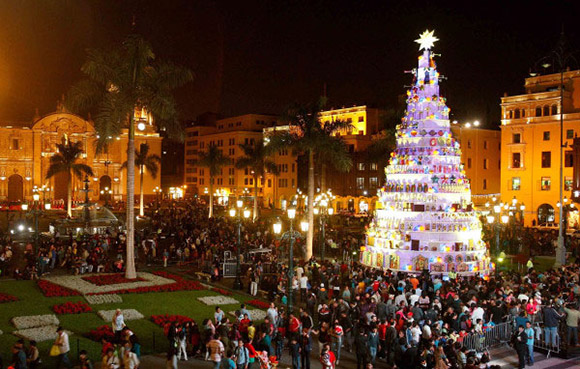 In spite of Ethiopia's Christian heritage, Christmas is not an important holiday there. Most people actually call the holiday Ganna or Genna after a hockey-like ball game played only once a year, on Christmas afternoon.
People in Iceland will often exchange books on Christmas Eve, then spend the rest of the night reading them and eating chocolate. The tradition is part of a season called Jolabokaflod, or "The Christmas Book Flood."As a result, Iceland publishes more books per capita than any other country selling most of them between September and November.
On Christmas Day, tradition allows Lebanese children to go up to any adult and say, "Editi 'aleik!" ("You have a gift for me!"). If the adult has a present to spare, the kids add this to their collection.
Syrian children receive gifts from one of the wise men's camels, purported to be the youngest and smallest in the caravan, who fell down exhausted at the end of the long journey to Bethlehem.
Fruitcake originated in ancient Egypt, where it was considered essential for the afterlife.
Roast turkey didn't appear consistently on Christmas Day menus until 1851, when it replaced roast swan as the favourite Christmas dish of the royal courts of Europe.
There are 12 courses in the traditional Ukrainian Christmas Eve supper, each of them dedicated to one of Christ's apostles.
Most people think of Japanese cuisine, which largely centres around seafood and rice, as being relatively healthy. So it may come as a surprise to know that family Christmas traditions in Japan include eating their big holiday meal at fast food giant KFC!
Native to Mexico, the poinsettia was originally cultivated by the Aztecs, who called it Cuetlaxochitl ("flower which wilts"). The plant's brilliant red colour symbolises purity for the Aztecs, and they often used the plant to reduce fever.
Spider webs are common Christmas tree decorations in Poland & Ukraine because, according to legend, a spider wove a blanket for Baby Jesus. Many Polish people consider spiders to be symbols of goodness and prosperity.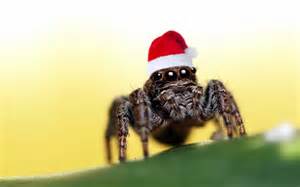 In Greek culture, kissing under the mistletoe was considered an unspoken promise to marry your partner.
In Estonia, people believed that the first visitor on Christmas, called the "first-footer," would determine the household's luck. Dark-haired men were seen as desirable first-footers, but women and fair-haired or red-headed men were often deemed unlucky.
"The Night of the Radishes" is one of the annual Christmas customs in Oaxaca, Mexico. On December 23rd, competitors carve nativity scenes into large radishes, which are proudly displayed at the Christmas market. Oaxaca has land dedicated to cultivating special vegetables just for this event.
According to Greek legend, malicious goblins called "Kallikantzari" would come up from their underground homes on December 25th, and would play tricks on humans until the 6th of January. You could get rid of them by burning logs or old shoes, or hanging sausages or sweetmeats in the chimney.
Russia was never really big on Christmas customs during the Soviet era. Nowadays, their version of Santa Claus is known as Ded Moroz (Grandfather Frost). He delivers presents to children  at midnight on New Year's Eve with the help of his granddaughter, the Snow Maiden.
So these are some facts about Christmas and Christmas traditions in other countries. I hope you found it interesting. Many of the facts were taken or adapted from greenglobaltravel.com and if you would like to explore Christmas traditions from other countries then this site is also very good and interesting. If you have any feedback or would like to contribute then please contact me, I look forward to hearing from you.